Story and photos gathered by Israel Carcamo
Estimated read time: Five minutes
Not every child dreams of what they want to be when they grow up. For the 160 million children involved in child labor around the world, thinking about their dream career isn't part of the plan.
That was the case for Digna of La Paz, Honduras. She had to drop out of school after sixth grade, and she thought she'd spend the rest of her life doing housework and working in the corn and coffee fields near her home.
In Honduras, 400,000 children are involved in child labor, including hidden work, or 15% of all children. That number doesn't include children who engage in work that doesn't affect their ability to get an education, like chores, helping with a family business, or even children of legal working age doing a non-harmful side job to earn extra spending money. That sort of work isn't considered child labor.
The type of child labor that the U.S. Department of Labor and World Vision want to see eliminated in Honduras (and around the world) is the type that robs children of their chance at education, play, and the fullness of life we believe every child deserves. In Honduras, most of this type of child labor happens in rural areas in the agricultural sector, where government oversight is not strong and workers' rights poorly enforced. 
Digna was out of school for five years, and she assumed her education was over. But then a local World Vision volunteer connected with her and helped her dream of something new. The volunteer helped Digna enroll in a vocational class and arranged for her transportation. There, Digna learned how to cut and dye hair, but also how to speak up in a group and set goals for what she wants to achieve. World Vision also helped Digna, at 17, enroll in an alternative eighth-grade education program on Saturdays so she can finish her basic studies.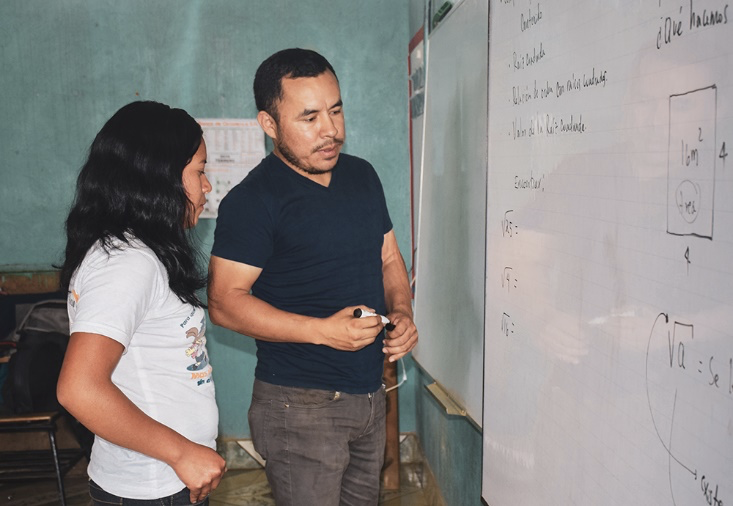 "Now I'm in eighth grade," says Digna, "I want to be a teacher, a math teacher. I want to finish high school and go on to university."
Digna's outlook changed through the U.S. Department of Labor-funded Bright Futures project. So far, Bright Futures has provided direct services to a total of 6,623 children in Honduras. This means support for alternative forms of education that help children like Digna catch up. It means training for educators to help them address child labor, support for households at risk of sending children to work, and support for the Honduras Ministry of Labor to enhance their ability to document labor violations. It's a comprehensive solution that addresses not just child labor itself, but the causes that drive and perpetuate it.
It's an especially timely project. The current count of 160 million children in child labor marks the first global increase in 20 years. As you may have guessed, the pandemic, and the economic toll it has taken on the world, has pushed more families into desperation, especially when those families were already vulnerable. UNICEF and the International Labour Organization (ILO) warn that as many as 9 million more children could be pushed into child labor as a result of the pandemic. The same sources point to a significant rise in the number of children ages 5 to 11 involved in child labor, which now make up just over half of the total. And the number of children involved in hazardous work, defined as likely to harm their health, safety, or morals, is also on the rise.
But the world isn't standing by. For Digna, support from the U.S. government, World Vision staff in Honduras, and community volunteers came together to give her the opportunity to change her trajectory. And she took it.
"Yes, she can do it," says Fredy Anibal Arueto Gonzalez, Digna's math and art teacher. "It's not too expensive or too far to go. The hardest thing is to continue with seventh grade. Once you do that, you can go on."
So far, 6,623 boys and girls have received direct services through the Bright Futures project. Other achievements since the project's start in September 2014 include:
19,093 people have accessed information services or legal advice on workers' rights and child labor.
663,669 people have been reached through awareness campaigns on child labor and labor rights (this includes workers, employers, parents, public servants, and civil society).
176 inspectors and officials with the Honduran Ministry of Labor and Social Security have received training on how to combat child labor.
95 child labor committees have been established in 95 schools to monitor school attendance and possible participation in child labor. (You can follow the project on Facebook to learn more about specific activities and achievements.)
These numbers represent the fruit of a successful partnership between the U.S. Department of Labor and World Vision. And they represent what happens when people care enough to take action. World Vision projects throughout the world are working to address—and eliminate—child labor, and the Bright Futures project is targeting the coffee-growing regions of western Honduras.
These projects, and the difference they make in children's lives, show a glimpse of the power of U.S. foreign assistance to do good, foster peace, and build stronger relationships. We think that's rather encouraging. If you need extra encouragement, take a look at the video below to see some of the work Bright Futures is doing in Honduras.
Be part of the change happening in Central America
Working to stop and prevent child labor is a key piece of World Vision's goal to foster hope and build resilience in Central America, so that families have hope for the future and don't feel pressed into negative coping mechanisms like sending children to work. As you've seen, U.S. foreign assistance can be a catalyst for change in individual children's lives and entire communities. You can help ensure the U.S. keeps making these wise investments by letting your member of Congress know you support this type of life-changing programs. Take a moment to write your member of Congress and encourage them that foreign assistance is making a difference.
ACT NOW:
Top photo: Digna hugs her aunt Juana Calix, who lives next door and cares for her mother, Digna's grandmother. (©2019 World Vision/photo by Israel Carcamo)