Estimated read time: Eight minutes
On October 11, we celebrate International Day of the Girl. This year's theme, "My Voice, Our Equal Future," is particularly fitting as our world faces unprecedented crises: the COVID-19 pandemic, the many natural disasters created by climate change, and ongoing, protracted conflicts — all of which will have lasting impacts for generations to come. The world needs young leaders to rise up, speak out, and inspire change now more than ever before.
Galatians 3:28 (NIV) describes the beauty of the Kingdom of God, where all voices are equally heard and valued, "for you are all one in Christ Jesus." At World Vision, we are committed to elevating the voices of those who are often not heard — especially those of women, girls, and young people — in all programs and policy because it's critical that children and adolescents have a voice in spaces where decisions are made about their futures. In line with UNCRC Article 12, we believe children have the right to have a voice, and it's time we pass the mic.
Today, I hope to do just that by highlighting the stories of three young leaders, who are using their voice and influence to create powerful change for the generation of girls that will come behind them.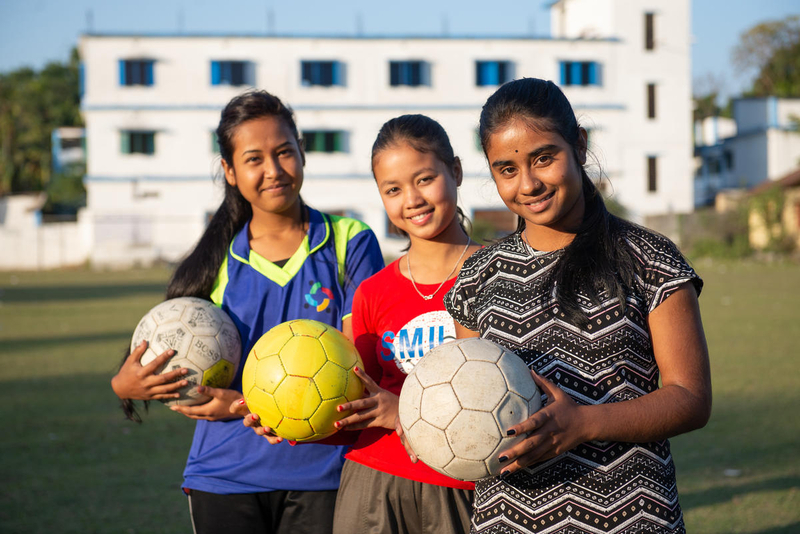 1. Dola, 16, in Bangladesh
When Dola was only 12 years old, "matchmakers" in her community came to her family's home, believing the young girl would make a good wife. Her own mother was married when she was 13 to an older man and soon after had children and became responsible for managing her household.
Bangladesh has one of the highest child marriage rates in the world— 59% of girls in Bangladesh are married before their 18th birthday and 22% are married before the age of 15. According to World Vision's Aftershocks report, millions more girls globally will be married in the next two years as a result of COVID-19 lockdowns.
Moved by her mother's experiences, Dola became one of several young activists in Bangladesh working to educate parents across the country about the harms of child marriage. With training from World Vision, she has been part of a team of adults and children advocating for an end to this form of violence against children. These young activists have stopped more than 600 child marriages in the past two years alone.
In Dola's own words:
"In Bangladesh, 18 years is technically the minimum age of marriage for girls. Unfortunately, the law is rarely enforced and, in recent years, we have seen how the government has considered policies that would grant exceptions for child marriage, making it legal in some cases. We, as members of the Child Forum, are against that because this will put many girls at risk," Dola writes in World Vision's New Vows report.
"In my country, some parents, especially from traditional communities, believe that child marriage is a way of protecting their daughters … Families often do not know the negative and harmful effects of child marriage, including pregnancy at such a young age, which can lead to many complications as a girl's body will not be ready for childbirth. Such parents benefit from being educated on the severe and harmful effects of child marriage.
"Child marriage is a very big problem and deprives girls from their education, health, and safety … To create a better and safer world for children, we — the government, donors and the public — must take more actions to prevent child marriage. It is important to make the practice totally illegal, to educate parents not to marry off their daughters, and to mobilize communities to protect their girls from child marriage."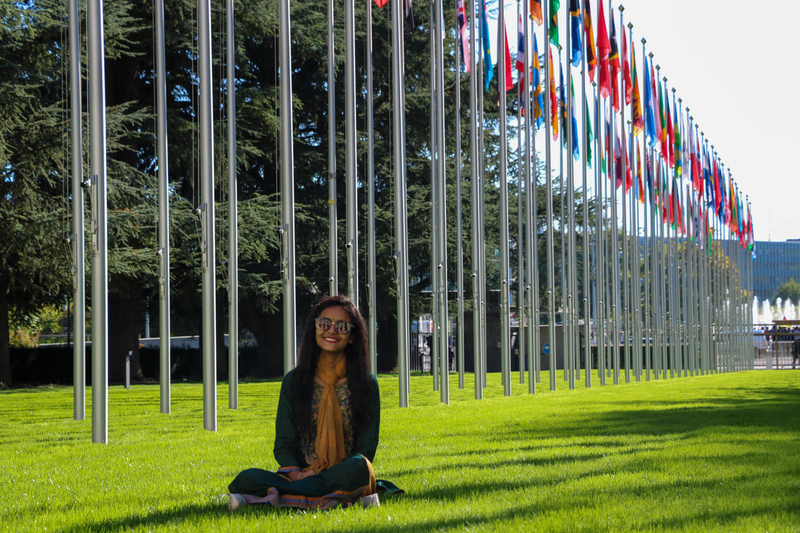 2. Sarafina, 16, in Ghana
Sarafina (16) lives in Pong-Tamale, a rural area in the Savelugu Municipality within the Northern Region of Ghana, and is one of World Vision's trained young leaders for ending violence against children. She advocates for the end of child marriage in her community while also promoting the active engagement of girls and other youth to defend the rights of all children. Sarafina became a member of World Vision's Child Parliament when she was in junior high and rose through the ranks to become the Speaker of Parliament. Through her hard work and dedication, she was unanimously elected to lead the Child Parliament.
Sadly, Sarafina grew up in a broken home where she often witnessed fights between her parents. "One day, at age 4, my grandmother came to visit us in Accra and I followed her to Pong Tamale. After some time, I decided not to return to Accra. Although I sometimes felt the absence of my parents, my grandmother gave me all the support I needed and it made me forget all the past and rather made me strong to focus more on my education so that I can become a better person in future to cater for my children," Sarafina remembers.
"My experience as a child from a broken home has taught me to empower girls, never to lose hope, have self-worth in order to stay away from men, and report any issues of child abuse, especially child marriage, to the Child Parliament so that we can take it up with the appropriate authorities. As child parliamentarians, we educate parents on the importance to keep their girl child in school instead of giving them out for marriage. We also investigate cases of child marriage and warn the perpetrators, after which we report and refer the case to the social welfare for action to be taken."
Although she is sometimes challenged by people who discriminate against her because of her gender and age, she is resolute: "Sometimes when I go to educate parents, they tell me I am just a little girl and cannot tell them what to do. Some of my friends also mock me calling me names like 'Too Known Girl', but I am not bothered."
Where Sarafina lives in the northern part of Ghana, 1 in 3 girls are married before the age of 18. She describes child marriage as the leading cause of violence against children, denying girls their childhood as well as a fulfilling life. She wants to see child marriage completely eliminated and to become a doctor someday.
Watch Sarafina's Story
3. Fatima, 18, in Syria
After her father's death in the Syrian war, Fatima had few options. Her mother chose to marry her at the age of 14 to her cousin, who could provide for her and her family. "Child marriage has risen by 90% after the war, due to migration and poverty, and in order to reduce the number of family members, especially in families with many daughters — it is rare to see a girl who is 13 and is not married," Fatima shares with World Vision staff.
Conflict and displacement are increasingly recognized as drivers of child marriage globally. While 13% of children were already being married under the age of 18 in Syria prior to the crisis, reports highlight significant increases in the rates of child marriage since conflict began. This increased rate is a result of multiple drivers including displacement, poverty and social and cultural pressures.
At the age of 17, Fatima gave birth to her first child in northwest Syria. She faced health challenges throughout her pregnancy and complications during childbirth, both due to her age and the poor infrastructure due to the war and the impacts of COVID-19 in Syria. Sadly, complications during pregnancy and childbirth are the leading cause of death for 15 to 19-year-old girls globally.
Now, Fatima has a Facebook page where she raises awareness amongst her friends about child marriage. Through her social media, Fatima has tried to support as many girls as possible who are victims of child marriage. She described one case of a girl who was married at the age of 9 and trying to get divorced at the age of 13. "This is a crime against girls," she said.
When asked about her hope for her generation and generations to come, she shared, "My biggest dream for my children is for them to complete their education. I was deprived of my right to education and I wouldn't want the same thing for my children."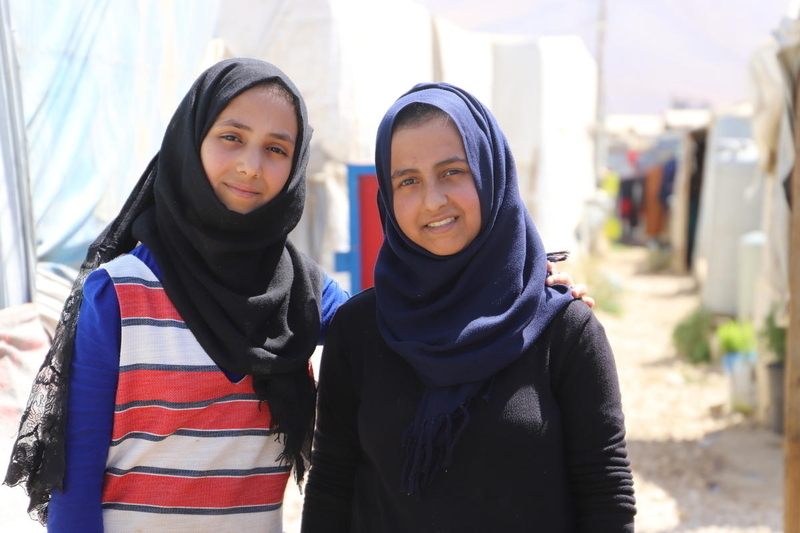 Learn more about child marriage in Syria.
We can all be a part of passing the mic to girls who are advocating for better lives for themselves and their communities. Dola, Fatima, and Sarafina are just three examples of the amazing girls and women all over the world who are speaking out against child marriage, gender-based violence, and other challenges girls face in being treated equally to their male peers. Let's join our voices to theirs to show that God cares about girls and the inequalities they face.
In the United States, World Vision's Strong Women Strong World Next Gen leaders are also making an impact through education and advocacy on behalf of women and girls around the world. Stef Wojcik (17), SWSW Next Gen Chair, and Stella Halferty (16), SWSW Next Gen Vice Chair share their hopes:
"We are using our voices to initiate change so that women and girls across the world can reach their full potential. We believe that all people should have the ability to dream and achieve their goals so by providing the necessities, such as clean water, communities are strengthened and gender equal. By creating a circle of passionate, young leaders we can achieve this goal."
This International Day of the Girl, we are calling on the Senate to take action on the Keeping Girls in School Act, which will help millions of girls overcome the barriers they face in accessing quality education. We know that quality education for girls is critical to their empowerment, development of agency and voice, as well as their ability to choose when and whom to marry. To support girls in creating the future they want, we invite you to ask your senator to co-sponsor the Keeping Girls in School Act.
Learn more about our child protection and participation work.
ACT NOW:
Top photo: Girl from Mumbwa Kaindu AP in central Zambia raises her arm, showing strength. (©2020 World Vision/photo by Tigana Chileshe)