Let us hold unswervingly to the hope we profess, for he who promised is faithful.

— Hebrews 10:23 (NIV)
In the Pacific Northwest, where World Vision has its U.S. headquarters, we hear a lot about the "June gloom." The calendar says it's summer, but the skies are still gray, it's raining, and we're all wearing sweaters. Still — we can feel the real summer coming. We know there are sunny skies and barbecues ahead if we can just hang on a bit longer!
So too in the World Vision Advocacy department. There's been no shortage of gray days in the past months, but we know God is faithful. Together, we'll continue to seek justice and hold on to hope —and celebrate when we see progress!
Take a look at the progress we made together in June and the exciting things on the horizon for the summer!
June action items
A win against preventable disease
You might remember us talking about Gavi, the Vaccine Alliance. Gavi provides vaccines for preventable diseases to kids who otherwise might not have access to them. Since 2000, Gavi has prevented nearly 13 million deaths.
Gavi is funded by donor governments and foundations and was up for replenishment this year. So in May, World Vision Advocates took over 1,600 actions to urge Congress to continue strong support for Gavi. On June 4, Gavi announced that its official funding goal had been met and surpassed, which will allow millions more children to be vaccinated against preventable diseases!
Speaking out against racial injustice
On June 5, World Vision President Edgar Sandoval Sr. issued a statement on racial injustice calling our nation to repentance, reconciliation, and action. We are praying that the current movement to end racial injustice will lead to transformed hearts, open minds, and permanent change.
New bill to prioritize safety of girls and women
Gender-based violence increases in emergency settings, such as COVID-19 lockdowns, putting girls and women at greater risk. To help address this, the Senate introduced the Keeping Women and Girls Safe from the Start Act on June 17. This could be a huge win for the millions of women and girls living as refugees, facing natural disasters, and at risk of violence during pandemic-related lockdowns. We're thankful for the opportunity to advocate for the rights of these girls and women!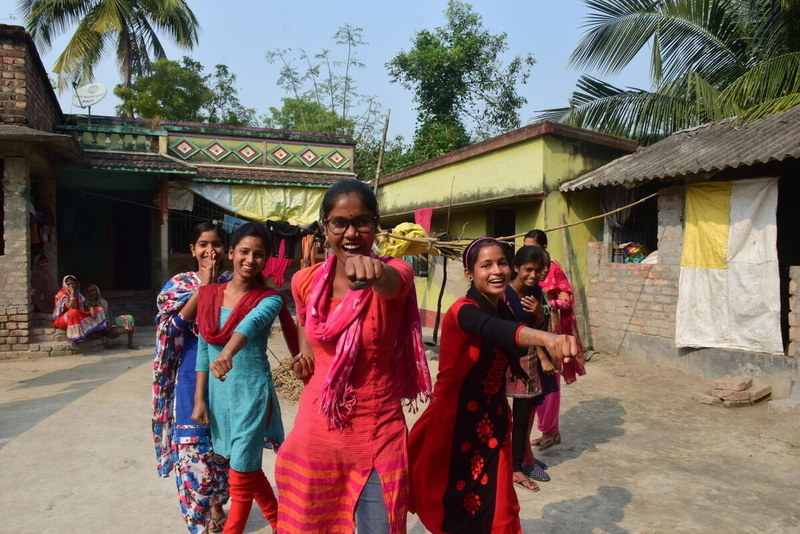 Top actions in June
Thanks for emailing, calling, and tweeting your members of Congress to get their attention on these vital issues! You took:
1,140 actions in support of the Keeping Girls in School Act, which helps address barriers that girls face in accessing education. Now, this bill is more important than ever, as girls out of school due to COVID-19 will be more likely not to return due to harmful gender norms.
5,244 actions (Wow!) in support of the Ending Violence Against Children Resolution. The Resolution already passed in the House, and we are building on that momentum to see it passed in the Senate and to introduce new legislation that will build on what the Resolution started (more on that below). Thank you for speaking up to prioritize children's safety.
320 actions to support of the Keeping Women and Girls Safe from the Start Act. We know what you're thinking — only 320 actions? But this bill was just introduced and we're already seeing a strong start! The bill helps address the gender-based violence that rises in emergency settings by empowering aid workers with resources and helping women become leaders in their communities. This is another one that's especially important now as we see gender-based violence rise in the wake of COVID-19.
On the horizon
Volunteer Advocate Community goes virtual
As members of Congress head back to their homes for summer recess, World Vision Volunteer Advocates are beginning to schedule virtual meetings! These Advocates use a faith-rooted, loving approach to encourage their representatives to make wise, compassionate decisions on behalf of children. This summer, they'll be advocating for child protection and the Keeping Women and Girls Safe from the Start Act. Our prayers are with all of them!
New child protection legislation
Building on the momentum of the Ending Violence Against Children Resolution, we're working on getting a new piece of legislation introduced that will create a stronger strategy for protecting kids — stay tuned for updates!
We are so grateful to our Online and Volunteer Advocates. Our work together moves us closer to a kinder, more just world for children and their families. We love to see how God is faithful as we are faithful to "Speak up" (Prov. 31) and raise our voices with his people around the nation and the world.
Thank you for being part of it!
For the Lord is righteous, he loves justice; the upright will see his face.

— Psalm 11:7 (NIV)
---
Be a part of World Vision Advocacy:
People of faith can have great impact when we raise our voices together. Come be a part of it by joining our Online Advocate Network! Sign up below and we'll send you a weekly email with easy actions you can take to lift your voice for justice:
Top photo: Young boy in Cambodia makes "heart hands." (©2019 World Vision/photo by
Makara Eam)