Estimated read time: Four minutes
Children in Honduras have something to say about child labor. It's easy to think of children as passive victims and focus our advocacy work on adults. But children make some of the best advocates! They know what's at stake, and in Honduras, children are working to be part of the solution.
World Vision's Bright Futures Project, funded by the U.S. Department of Labor, aims to reduce child labor and improve labor rights in Honduras—working not just to stop child labor, but to educate communities and provide economic opportunities for families so that sending a child to work doesn't feel like a family's only option. The project accomplishes this by:
Working with the Honduran government, industry, and other stakeholders to build the Ministry of Labor's capacity to identify and respond to child labor issues.
Ensuring remediation of labor law violations related to freedom of association and the right to organize and bargain collectively in the private sector.
The project targets the coffee growing regions of western Honduras where many children are at risk. So far, over 6,600 children have received direct services through the Bright Futures project, and over 660,000 Hondurans have been reached through awareness campaigns about child labor rights.
To encourage children to express their feelings, kids throughout the country were invited to share their thoughts on child labor and children's rights through art. They submitted original drawings showing what they think about child labor and what childhood should look like. Check out their amazing work below—we hope their art inspires you like it inspired us!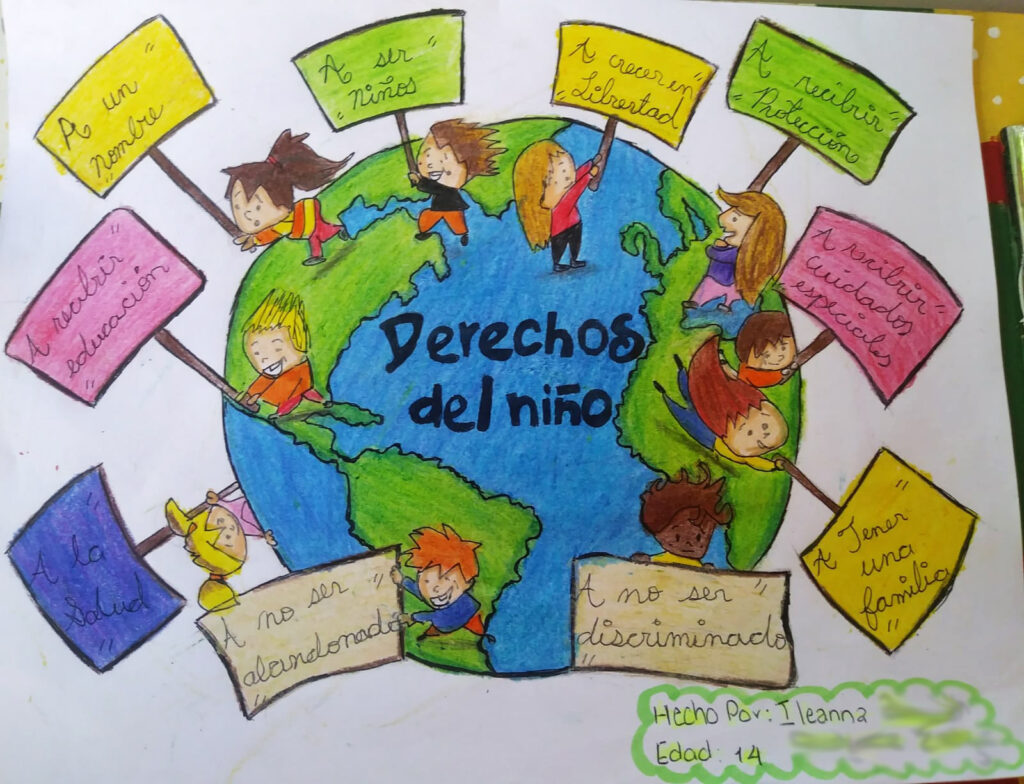 Ileanna, 14, imagines a colorful world where children's rights (derechos del niño) are upheld. The signs she drew are in Spanish and name rights such as: to be children, to grow in freedom, to receive protection, to receive special care, to have a family, to not be discriminated against, to not be abandoned, to health, to receive education.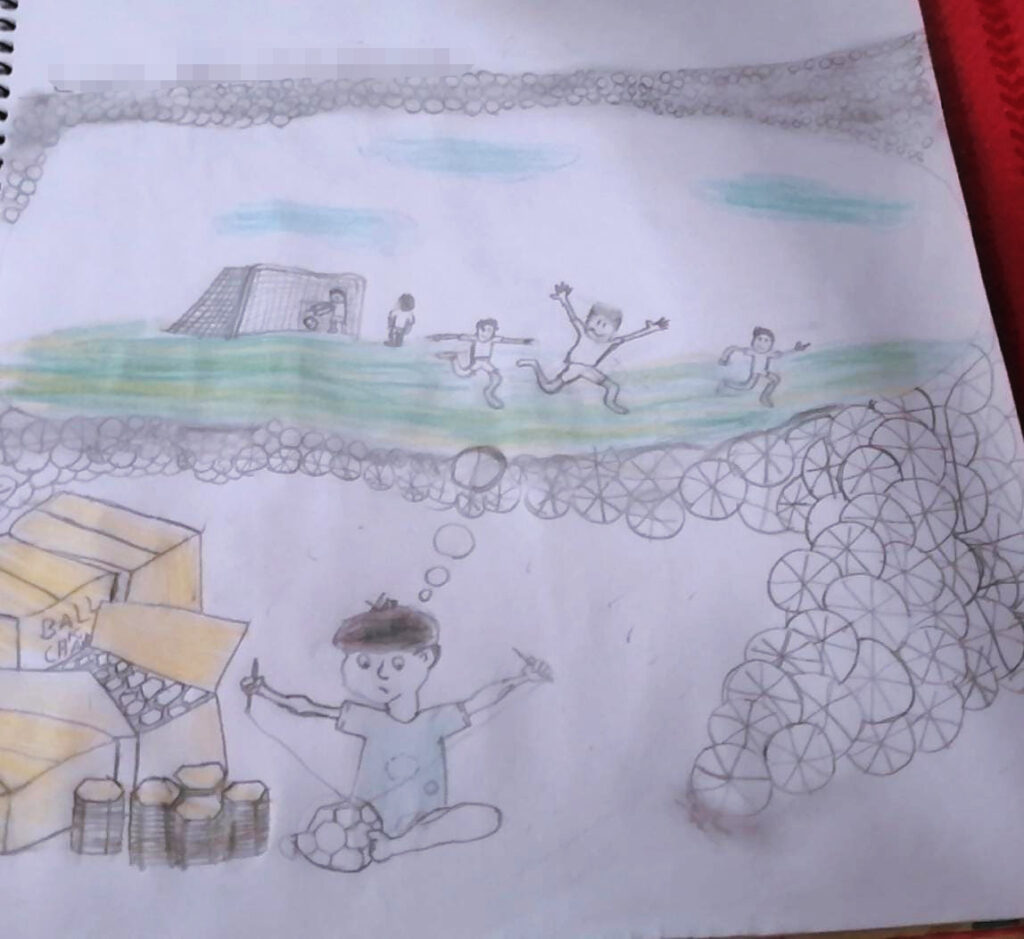 This drawing to the right shows a boy working sewing soccer balls dreaming of instead being able to play soccer. For 160 million children around the world, recreation time may seem like a dream. Some of these children are still able to go to school when they're not working, but even if that's the case, school and work leave little time for play. In Honduras, approximately 400,000 children are involved in child labor, including hidden work. According to the National Institute of Statistics in Honduras, about half of children ages 5 to 17 who work do not go to school.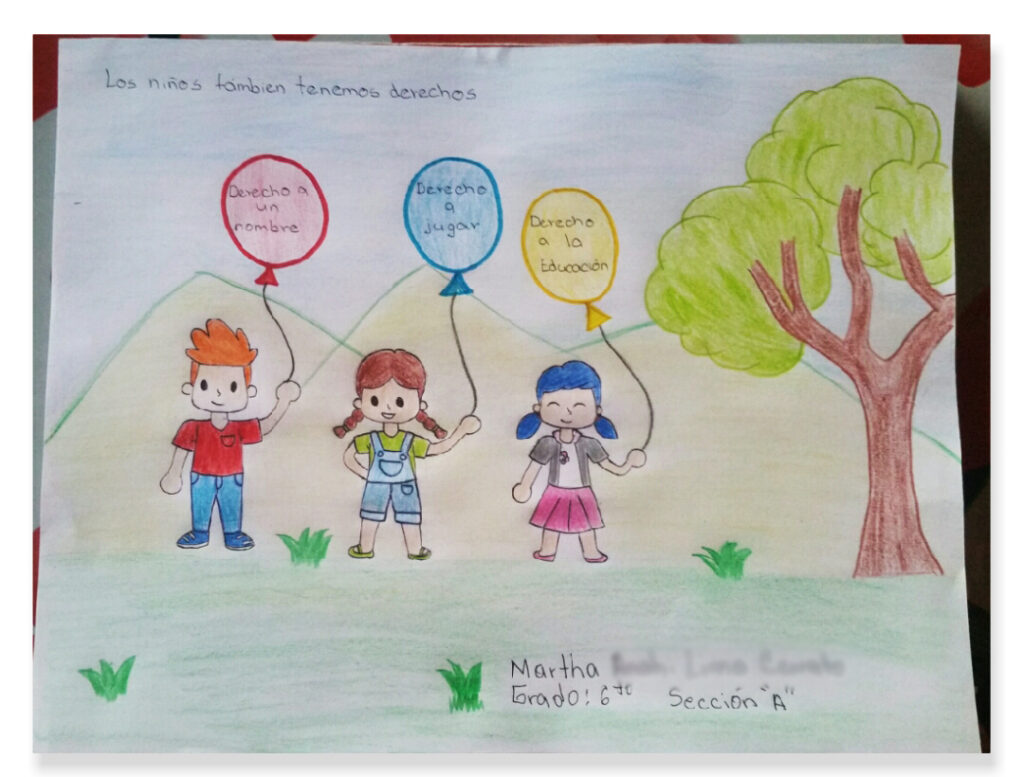 Martha, a sixth grader, reminds us that children have rights too. The red balloon represents the right to a name, the blue represents the right to play, and the yellow represents the right to education. By noting a child's right to a name, she's likely referring to the issue of children whose births are unregistered. Registering a child's birth provides legal recognition of a child's identity and existence and helps ensure a child's rights—like the right to protection and access to health care—are upheld. In some cases, a birth certificate may be the only form of identification a child has.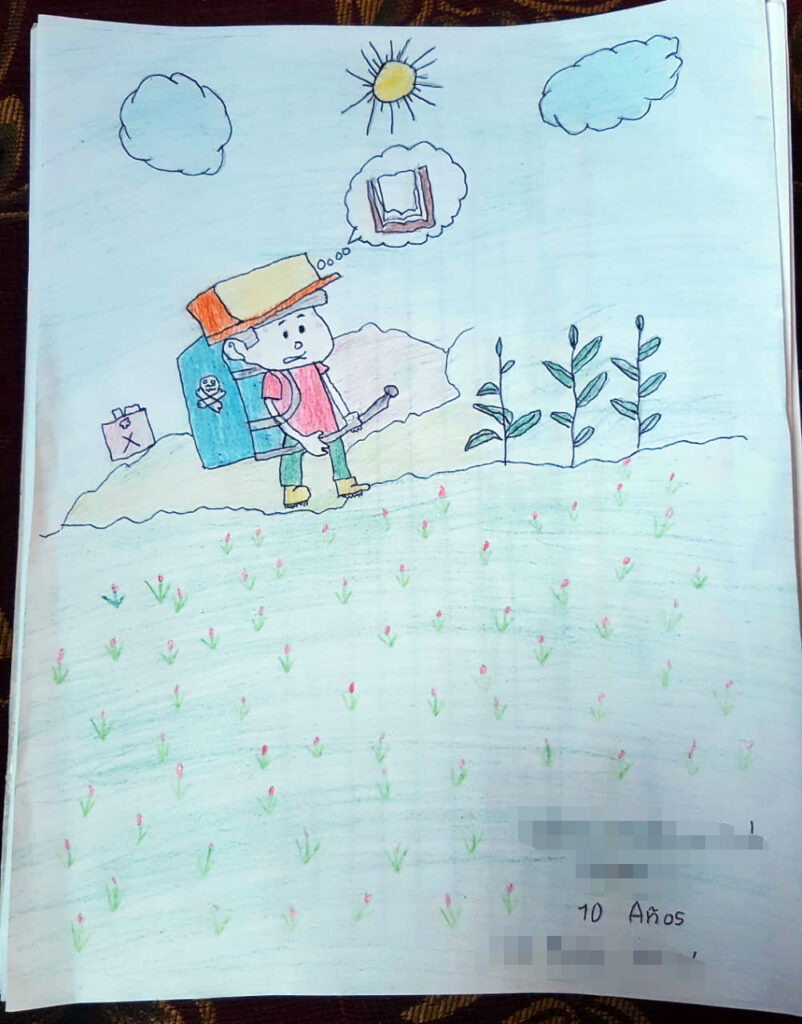 This picture to the right, drawn by a 10-year-old, shows a boy spraying hazardous chemicals while thinking of his lost education. It depicts a harsh reality: Of the children involved in child labor globally, 79 million are involved in hazardous work, defined as likely to harm their health, safety, or morals. This number has risen by 6.5 million since 2016.
After the Bright Futures team received all the art submissions, pieces were posted to the project's Facebook page and winners in each age category were determined by the number of "likes" each received. Winners received new school supplies to help them continue their education with confidence.
Many of the children who submitted art for the contest were from rural areas, where children are at greater risk of child labor. Together with communities in Honduras, including these child artist-advocates, we are working to empower families and eliminate child labor.
We'd like to leave you with a poem, written by Boris, age 10.
Dreams of a child
Each day that the sun rises
I give thanks to God
That I can play with my horse
On the farm, "El Gira Sol"
When I'm in the fields
My only joy
Is that the birds, with their song
Give me welcome

I'd love to always be studying
And playing with my friends
Exploring many places,
I don't want to work anymore.
Let the children live, may they live!
With justice for their rights
That they wouldn't be broken
That they would live and fight
To put an end
to child labor.
Lift your voice to stop child labor
Working to stop and prevent child labor is a key piece of World Vision's goal to build resilience in Central America, so that families have hope for the future and don't feel pressed into negative coping mechanisms like sending their children to work. U.S. foreign assistance (such as that provided through the U.S. Department of Labor) is already working to support Honduran communities, including those of the children whose art is displayed above. Let Congress know you support this type of positive, life-changing work by taking a moment to send the email below. Your voice can make a difference!
ACT NOW:
A young boy receives his prize for his winning submission: new school supplies! (©2021 World Vision)