*Photo taken before CDC recommendation to wear masks/practice social distancing in public
May was a tough month. And considering the months we've had lately, that's saying something. Our hearts are heavy because in May:
We saw systemic racism and injustice result in the death of yet another of our African American brothers and sisters. World Vision U.S. is heartbroken that hatred like this persists, and our president and CEO issued a statement condemning racial violence and oppression and calling for us to stand and work together for justice.
We hit 100,000 deaths from COVID-19 in the U.S. alone.
World Vision International released its Aftershocks report, which estimates that 85 million more children worldwide may be exposed to some form of violence over the next few months as a result of quarantine measures. (This is in addition to the over one billion children who already experience violence every year.)
Many of us continue to deal with personal health or financial crises.
"I have told you these things, so that in me you may have peace. In this world you will have trouble. But take heart! I have overcome the world."

— John 16:33 (NIV)
Even when our hearts are exhausted, we cling to God's call to act justly, love mercy, and walk humbly before him. Last month brought into sharper relief the deep need for justice around the world and in our own nation — and now is not the time to back down. In that spirit, here's our progress from May and our plan of action going forward:
May's top action: Gavi, the Vaccine Alliance
Gavi, the Vaccine Alliance (formerly the Global Alliance for Vaccines and Immunisation) partners with governments, corporations, and organizations World Vision to provide life-saving vaccines to those who might not otherwise be able to access them. As we wait for a vaccine for COVID-19, we understand more than ever that vaccines help make the world safer for everyone. But some children are still waiting for vaccines to diseases that wealthier nations largely no longer worry about, and Gavi is working to change that!
Since it began in 2000, Gavi has contributed to the immunization of more than 760 million kids and prevented nearly 13 million deaths.
But we're preaching to the choir, aren't we? In May, you took over 1,600 actions (emails, phone calls, and social media posts) to support this life-saving effort! Thank you!
And though we haven't reached the end of the road yet, we've seen good progress on the Gavi Resolution! In February, the U.S. Administration announced its intent to fully replenish Gavi with $1.16 billion over the next four years, and the Senate has already passed the Gavi Resolution. We are still waiting for the House to follow suit. On June 4, Gavi announced on Twitter that its official funding goal had been met and surpassed. Lots of good news!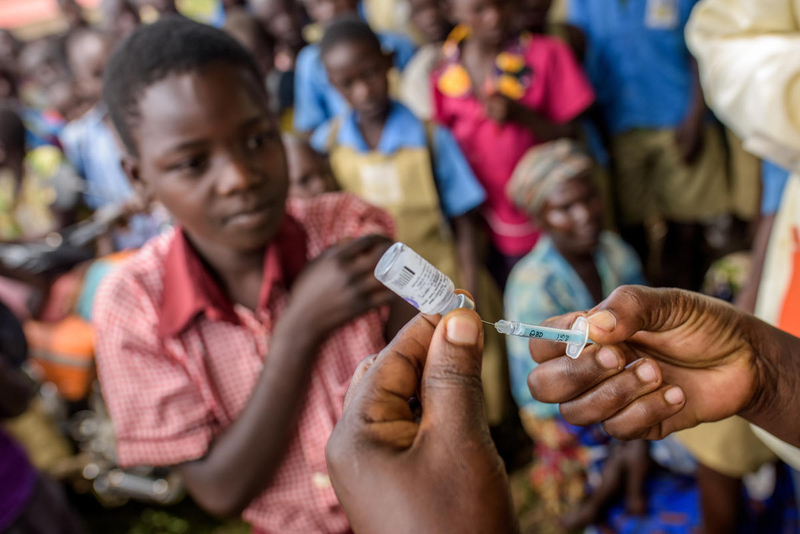 International Disaster Assistance
Advocates' second-biggest action item this month was support for the International Disaster Assistance account. Disaster relief is critical not only to helping communities respond to the immediate needs of disasters (like COVID-19 or the recent Cyclone Amphan), but in helping them recover stronger and prepare against future disasters. Thank you for taking over 1,500 actions to support people facing disasters around the world!
R&R: (Reports and research)
We love the part of advocacy that means taking action, but it's just as important to look at how we can make our advocacy effective. So in May, we did some important work prepping for action!
To help governments address this increased violence against children, the Ending Violence Against Children Taskforce (which includes World Vision) devised messaging and policy recommendations for our government leaders to help protect kids from the devastating secondary effects of COVID-19.
World Vision International released a comprehensive report on the secondary effects of COVID-19 on children. The report estimates that many types of violence against children will increase, including up to 13 million more child marriages in the years immediately following the pandemic.
Our Volunteer Advocate Community took some time in May to learn more about how they can make their advocacy more effective by engaging members of their community. This is in preparation for summer meetings with their members of Congress!
What's next?
We're working on new pieces of legislation that will build on the work we've done together to end violence against children. We're excited to introduce these to you — please stay tuned!
Thankful for YOU!
Even in these especially challenging times, we are so grateful that we have so many advocates still reading about important issues, sending emails, and looking for ways to speak out for justice in their own communities and around the world. We believe that justice is a theological necessity, and when we work for justice, recognizing the dignity of every person, we learn more about the heart of God. Thank you for being on the journey with us!
Learn to do right; seek justice. Defend the oppressed. Take up the cause of the fatherless; plead the case of the widow.

— Isaiah 1:17 (NIV)
Advocate with us
People of faith can have great impact when we raise our voices together. Come be a part of it by joining our Online Advocate Network! Sign up below and we'll send you a weekly email with easy actions you can take to lift your voice for justice:
Top photo: Addyson and Maurine hold hands in Kenya. (©2019 World Vision/photo by Chris Huber)