Become A World Vision Advocate
Our community is made up of ordinary people who desire to follow God's call to seek justice, especially during crises like what we're witnessing in Ukraine. We stand up and speak up for the poor, the afflicted, the oppressed, and the marginalized. How? By building ongoing relationships with members of Congress — advocating for legislation and issues that affect children around the world. Our advocates do this through email, phone calls, or meeting in-person with their representatives! Fill out the form below to get started:
"Let justice roll on like a river, and righteousness like a never-failing stream."
— Amos 5:24 (NIV)
Our hearts cry out for the mothers, children, and families of Ukraine who, overnight, have become refugees. Perhaps, in your prayers for the current crisis and others like it, you wonder what you can do.
If your heart is crying out and you long to take action — we invite you to use your voice as a World Vision Advocate.
What's Happening:
The escalation of conflict in Ukraine has forced more than 3 million people—mostly women and children—to flee to neighboring countries, making this the fastest-growing refugee crisis in Europe since World War II, the U.N. High Commissioner for Refugees has said. With the escalating crisis, the causalities, the number of displaced and the needs are growing hour.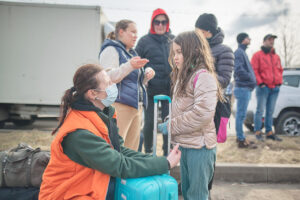 The sudden escalation of conflict is not only devastating the lives of children and families from Ukraine, but is likely to create economic disruptions that impact child poverty far beyond Eastern Europe. This conflict threatens regional stability, and humanitarian needs are expected to rise sharply. Ukraine alone provides more than half of the World Food Programme's wheat supply, and World Vision is their largest partner in food distribution to developing countries. The following statement from the U.N. Secretary-General highlights the devastating implications of the conflict:
"We must do everything possible to avert a hurricane of hunger and a meltdown of the global food system. In a word, developing countries are getting pummeled. They face a cascade of crises – beyond the Ukraine war, we cannot forget COVID and the impacts of climate change – in particular, drought. Make no mistake: everyday people, especially women and children, will bear the brunt of this unfolding tragedy."  — António Guterres, U.N. Secretary-General
Ukraine is home to 7.5 million children, more than 2 million of them younger than 5. We know that conflict causes both immediate and lasting physical, emotional, and mental harm to children, families, and communities. This conflict has already impacted millions of lives, but it is not too late to pursue peace and urge our leaders to take immediate action.
What Can Be Done:
Since the conflict started, World Vision has been on the ground assessing and responding to the urgent needs of those searching for safety. We are working to support refugees in Romania, Georgia and Moldova as well as internally displaced people in Ukraine. Our response to date includes providing food, water, hygiene kits to affected families in Ukraine and Romania and we are mobilizing teams to meet the needs of growing refugee populations in Georgia and Moldova.
Please join us in keeping the families of Ukraine in prayer, believing in our mighty God for a miracle. And join us today in calling on the American government for increased humanitarian assistance to address both this crisis and its predicted ripple effects, including rises in hunger, gender-based violence, and poverty.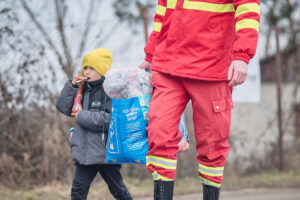 One of the most significant ways you can respond to this and other humanitarian crises is to speak up:
In places of power, like the offices of our elected officials
On behalf of the children, mothers, and caregivers whose lives have changed in recent weeks
In support of those around the world who've been suffering and experiencing injustice for years
Our advocates raise their voices to help ensure that children around the world can experience Jesus' offer of life in all its fullness.  We are eager to connect with you. Together, we hope to see justice roll on like a river for all of God's children, bringing lasting change to their communities.
How does being an advocate connect to your journey as World Vision donor?
Watch the video below to hear from people like you—people who saw a need
and chose to speak up on behalf of the children God loves: